Here's a weird iPad 3 rumour coming from Taiwanese site Apple.pro. The site has published photos of what is reportedly the dock connector and ribbon cable for the next-generation iPad, or iPad 3.
Normally the dock connector on Apple's devices do not reveal much, especially since it is used as a standard connector across multiple iDevices. However, what makes this dock connector special is that it appears to be white in colour. The current iPad 2 dock connector is black on both colour models of iPad, whether black or white.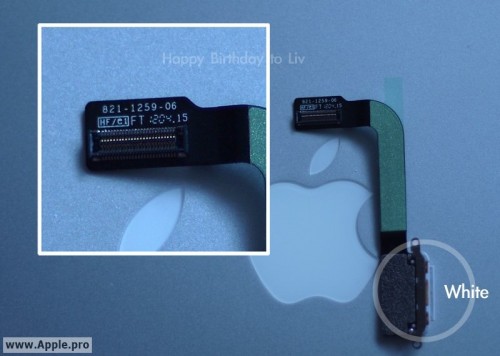 So what does this mean? Well, it could point to a possible case redesign for the iPad 3. It could also mean that it is a guarantee that the next iPad 3 will come in at least the colour white.
Recent rumours have pointed toward an "iPad HD" or "iPad Plus" as the next-generation iPad. These rumoured devices are expected to be more evolutionary upgrades (think iPad 2.5) rather than revolutionary upgrades (a full iPad 3). Is this dock connector a part from the "iPad HD", "iPad Plus" or iPad 3, well that's hard to say.
What do you think?
Posted under: iPad Rumours